SeatStory Cup // BarStone // Krefeld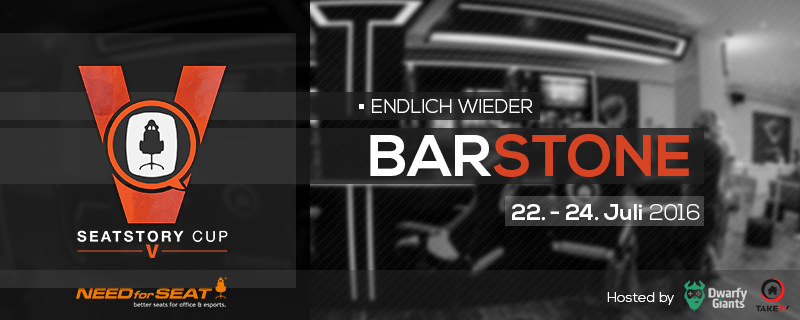 Barstone zum Seatstory Cup incoming! Vom 22.07 bis zum 24.07 stehen wir in Krefeld bereit um Euch mit interessanten und spannenden Hearthstone Matches zu versorgen.
---
---
For the fifth time, TaKe-TV and NEEDforSEAT have called on the best Hearthstone players in the world to continue what started two years ago: SeatStory Cup powered by NEEDforSEAT® is back!
From 21 – 24 July 2016, top players from all over the globe will once again travel to Krefeld, Germany, to take part in one of the world's most popular Hearthstone tournaments.
SeatStory Cup V powered by NEEDforSEAT® will once again take place in TaKeTV's 2,000m² location, which means more exciting games, more hype, and more SeatStory Cup!
Our friends from Dwarfy Giants will also host a BarStone tournament on Friday, Saturday and Sunday with you and you can win some hot prizes! More information on the BarStone tournament will follow soon.
The tournament will be played LIVE at the TaKeTV studios and will be shown in the in-house cinema and on various TV's on location. Visitors can watch the action as it happens and enjoy the full Hearthstone experience together with friends, other fans, and even their favourite players!
Of course, the famous TaKeTV living-room atmosphere will remain intact, and the winner of SeatStory Cup V powered by NEEDforSEAT® will travel home $10,000 richer. The overall prize pool this year amounts to a massive $20,000!
+ + Tickets can be bought on www.sscv.eventbrite.de or at the box office on location from 21 – 24 July. + +
The show starts at 2 PM CEST every day, so if you can't make it in person, you can watch the livestream on our Hearthstone Twitch channel:http://www.twitch.tv/TaKeTV_HS.
All updates & changes can be found on our website: http://live.taketv.net/blog/108/seatstory-cup-powered-by-needforseat-returns